We are talking about 100 thousand coins that have been tokenized within the Ethereum ecosystem, more than half of them in the last 30 days. In USD equivalent, this is more than a billion dollars. Which is roughly equal to the entire volume of decentralized finances four months ago.
According to DeFi Pulse, approximately 98,300 BTC (about $ 1.05 billion) has been tokenized by using protocols which were different from Blockstream's Lightning Network. And this is about 12 percent of the total capitalization of the entire DeFi volume, which is estimated at $ 8.57 billion.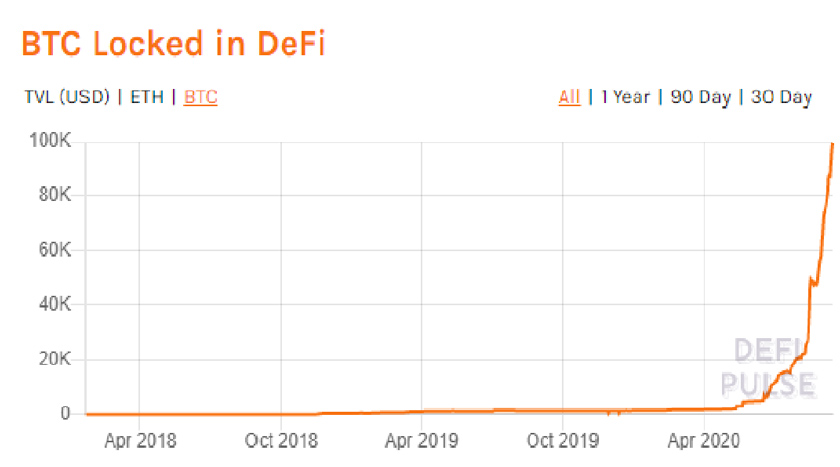 These indicators show us the growing popularity of not only decentralized finance in general but also ETH-based protocols in order to generate passive income among BTC holders. At the same time, in early June, the capitalization of the entire DeFi sector was about $ 1.05 billion, of which bitcoins accounted for at most 47.5 million, or about 4.7%. But over the past 3.5 months, their share has grown by 1500%.
At the same time, for example, the Lightning Network since its launch in March 2018, tokenized only 1,100 coins total of about $ 11.5 million.
In the early summer of 2020, most bitcoins were present in the DeFi sector in the Wrapped Bitcoin (WBTC) format, but that soon changed. The launch of a more decentralized "virtual machine" (VM) from Ren and RenBTC, in addition to tokenization protocols such as PieDAO's BTC ++, significantly increased the flow of coins into the decentralized finance sector, but in a slightly different format.
It is known that tokenization protocols allow users to block certain amounts and mint an equivalent number of ERC-20 tokens, which can already interact with a variety of smart contracts within the Ethereum blockchain ecosystem.
Despite the fact that WBTC, launched at the end of November 2018, still occupies a leading position among bitcoin-linked tokens, holding about 56,800 bitcoins, which is approximately equal to $ 605 million, Ren's VM is slowly getting closer to it. Since its launch in May 2020, it has linked around 21,500 BTC worth $ 230 million.
Although the total supply of coins in both projects has more than doubled over the past 30 days, WBTC continues to attract more cryptocurrency than Ren. In terms of numbers, WBTC is characterized by an increase from 28360 to 56850 BTC, and for Ren - from 10,000 to 21,510 BTC in just 1 month.
And if you look at the longer terms - 90 days, for example, it is noticeable that the volumes of both projects have grown by more than 850 percent. As of June 2020, WBTC has tokenized only 5,839 bitcoins, while Ren has tokenized just 155.
As for specific projects where bitcoin owners invest their tokenized assets, the situation is as follows:
Curve Finance - 27,600 BTC, which is roughly $ 295 million.
Aave - 17800 which equals 190.5 million.
Balancer - 9500, which equals 101.6 million.
These three projects have attracted over half of all Bitcoin-related assets.
However, only 0.47 percent of all existing BTC is tokenized, so one can expect a further increase of adding cryptocurrency into the decentralized finance sector within a few months, if not years.
Published on the EXBASE based on materials from cryptohamster.org